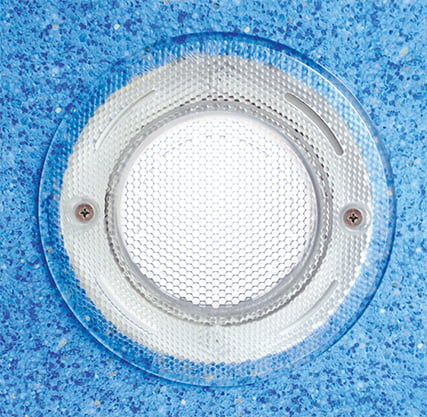 A spectacular, ultra reliable lighting system that's user-friendly & easy to install.
Spectrum™ 360 LED lights are available in either fixed color or multi-color options.  The multi-color options provide a variety of color possibilities and a vast array of preprogrammed scroll and flash modes.
LED lights are available in cool white, brilliant blue or multi-color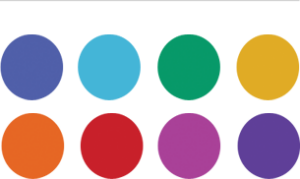 The Latest in LED Lighting Technology
The Spectrum™ 360 system incorporates the latest generation LED technology and thermal management system to ensure maximum light output and reliability. In addition, Spectrum™ 360 lights are extremely energy efficient and long-lasting. The entire system is extra-low-voltage ensuring safety at all times.
• Stylish, compact and modern design
• Innovative Plug Kit
• Fully adjustable Plaster Ring
• Detachable cable for easy installation
• Super bright, energy efficient, next generation LED technology
 *Appearance of color and white LED light may vary between various models of lights. Appearance and perception of pool lighting may vary depending on a number of factors including, but not limited to, the particular model of light, the location/depth/angle of the light's installation, pool finish/material, pool depth/shape/geometry, ambient light sources, subjective factors and more. For best results when using multiple lights, use all the same model and do not mix multiple models of lights within a single installation.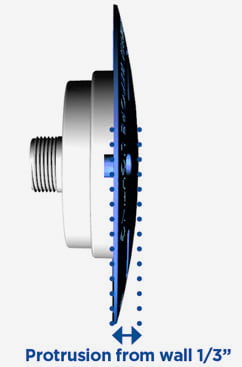 Recently awarded one of the Top 50 Products of 2022 and designed for a wide range of applications, the Spectrum 360 Nicheless is the most advanced nicheless lighting system available. Its contemporary design and ease of installation make it the perfect choice for new pool construction or re-modeling older pools. The latest LED technology and thermal management systems have been incorporated to provide vibrant RGB+W performance with maximum energy efficiency.
The Spectrum 360 Nicheless is UL certified to be installed in a variety of nicheless fittings, and plug-and-play retro-fitting is made easy by using the unique field-wirable plug kit. Available in fixed colors of White, Warm White, Blue, and FFWCC compliant Amber (Turtle Friendly), as well as multi-color options that are compatible with popular third-party controllers.
Pool with three Spectrum 360 Nicheless Lights