Transform your pool experience with the addition of lighting, which can help create a personalized backyard atmosphere that reflects your unique style and mood. By tailoring your environment to your preferences, you can establish an idyllic setting that extends beyond your pool area. Indulge your senses with captivating sights, sounds, and tactile sensations.
Pool lights offer more than just visibility for nocturnal swims; they also enhance the aesthetic appeal of your backyard, accentuating the allure of your pool design and elevating your outdoor leisure time.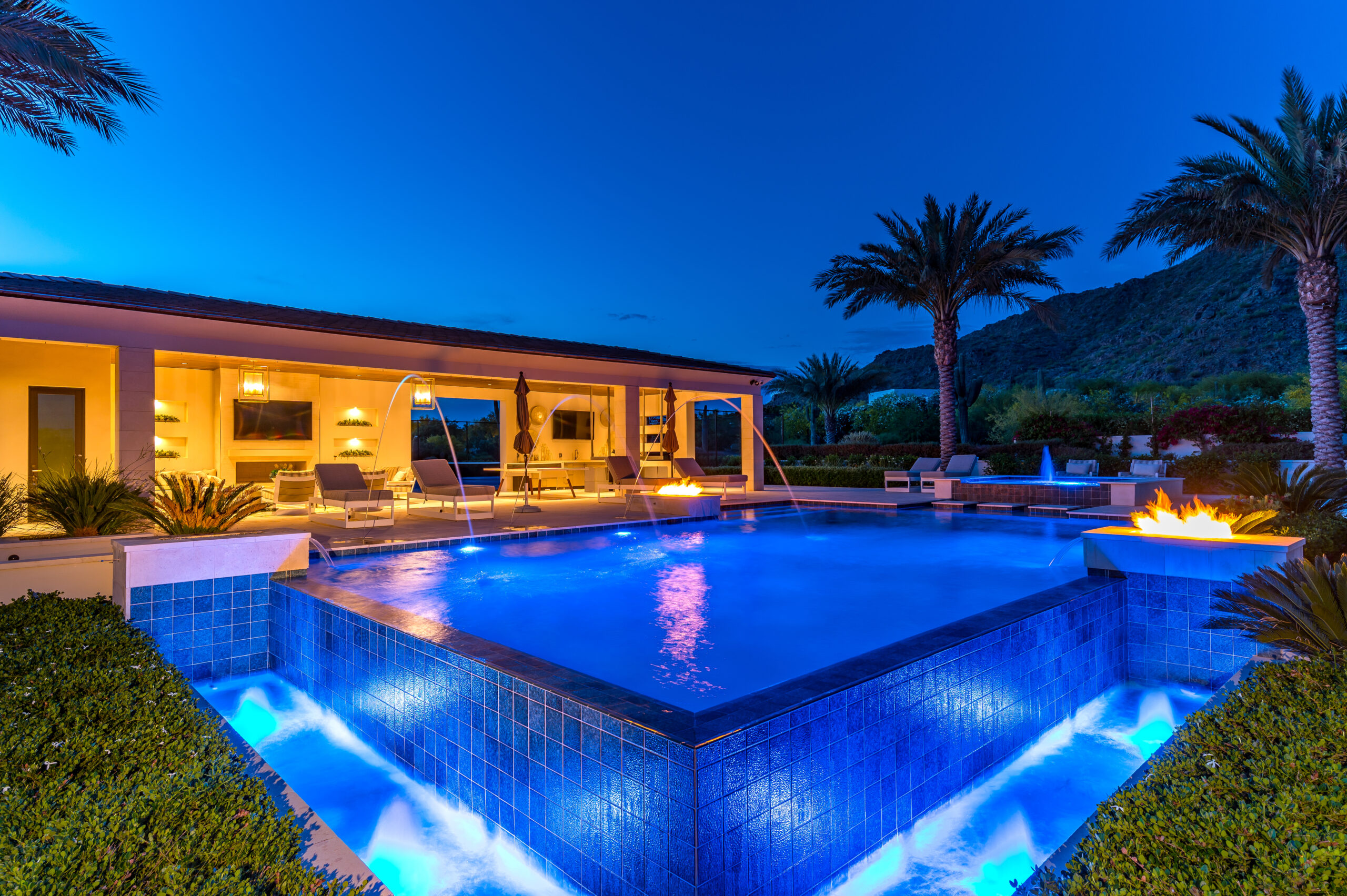 Why Builders & Service Companies Choose Blue Square Pool Lights
Blue Square provides a diverse array of pool lights to builders and service companies that are ideal for a variety of pools. With options ranging from bold colors to white color temperatures and sizes to suit your needs, we offer top-notch products that are both energy-efficient and stylish. Our inground pool and spa lights are designed using cutting-edge innovations and advanced energy-saving technology, ensuring not only safety but also a customizable aesthetic experience tailored to your customer's preferences.
At Blue Square, we're dedicated to delivering high-quality pool light technology that creates a brilliantly lit and even pool paradise that everyone can enjoy. Our products are characterized by:
Multiple Color/Brightness Options
*Must be purchased by a pool professional
Benefits of Blue Square Nicheless Lights
Nicheless pool lights are the latest trend in pool lighting technology for their modern and innovative solutions and offer a number of benefits over traditional niche lights. With their ease of installation, safety, energy efficiency, design flexibility, and durability, they are a smart choice for anyone looking to upgrade their pool lighting.
Nicheless lights are much easier to install as they don't require a separate niche to be built into the pool wall. This saves time and money during the installation process and allows for a more streamlined and modern look to the pool.
Nicheless lights are safer than traditional lights. Because there is no niche, there is no risk of water infiltration into the electrical area, reducing the risk of electrical shock and fire. The absence of a niche also means there are fewer crevices and seams where water can collect and create a breeding ground for bacteria and algae, making them easier to clean and maintain.
Nicheless lights are also more energy efficient than traditional lights. This is because they use LED technology which is more energy efficient and lasts longer than traditional lighting sources. This means that you will save money on energy costs and also have to replace the lights less frequently.
Because they don't require a niche, they can be placed anywhere in the pool, providing greater flexibility in lighting design and placement. This allows for more creative and customized lighting arrangements and enhances the overall aesthetic appeal of the pool.
Nicheless lights are more durable than traditional lights. They are made from high-quality materials such as stainless steel, which is resistant to corrosion and weathering, making them a more durable and long-lasting option.
Replacement Pool & Spa Lights
Update Old Pools Lights with Vivid Brightness
The Vivid360 LED replacement lights from Blue Square Manufacturing are an excellent choice for anyone looking to upgrade their pool or spa lighting. These lights are designed to provide bright, energy-efficient lighting that will enhance the look of your pool or spa while also helping you save on energy costs.
Whether you're looking to create a relaxing ambiance in your pool or spa, or you simply want to enjoy brighter, more efficient lighting, the Vivid360 LED lights are an excellent choice.
The Vivid360 Difference
Saves service professionals time and money with service-friendly design

Adjustable niche tab allows more freedom with old niches and surface thickness

New lighting can be installed using the existing lighting cord with our patented, UL-approved plug

Pool owners will appreciate the durability and product warranty
*Must be purchased by a pool professional
Our Turtle Safe Pool & Spa Lights
were developed to protect sea turtles
Certified Turtle-Safe Pool & Spa Lighting
Turtle-safe pool lights are a crucial consideration for pool builders who want to ensure the safety and well-being of the wildlife in their area. These lights are designed to emit a lower frequency of light that is not harmful to turtles, which are known to be affected by certain wavelengths of light and can become disoriented, leading to dangerous and potentially fatal situations. By using turtle-safe pool lights, pool builders can help protect these vulnerable creatures while also meeting their obligations to promote environmental responsibility. Furthermore, these lights can also improve the overall aesthetics of the pool, providing a soft and calming ambiance while ensuring the safety of the local wildlife. Overall, turtle-safe pool lights are a responsible and environmentally friendly choice for pool builders.
Benefits of Blue Square's Turtle-Safe Lights
Uses only long wavelength LED lighting

Longer lifetime/lower maintenance cost

Directional light distribution

More appealing color than the competition's light
*Must be purchased by a pool professional