THE LARGEST CAPACITY STORAGE FOR POOL & SPA DEBRIS
With maximum debris storage capacity for swimming pool and spa debris, Abyss needs less frequent cleaning and maintenance than a typical installation. Abyss also is designed to push the heaviest debris to the bottom, increasing your pool's energy efficiency.
HIGHER CAPACITY.
LESS MAINTENANCE.
By design, the heaviest debris heads straight to the bottom.
No interrupted water flow.
No interference with your pool equipment.
Maximum efficiency at all times.
The lid gives you a clear view of what's inside.

The 14 in. basket easily slides out and keeps debris contained in the process.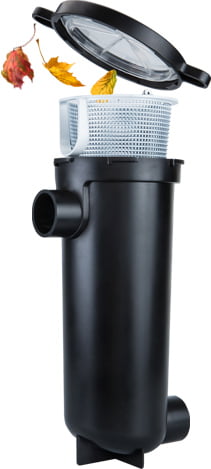 PAIR THESE PRODUCTS WITH ABYSS FOR IMPROVED CLEANING